Wall-Mounted Adjustable Shelving Systems
Wall-Mounted Adjustable Shelving Systems
The unsung heroes of commercial and industrial shelving
When it comes to shelving, most project decision makers – architects, contractors, builders, cabinet makers – know Knape & Vogt, the market leader in adjustable shelving systems. In fact, the savvy professional also knows that KV is the number one architecturally specified brand of adjustable wall-mounted shelving systems in the U.S. Here's why: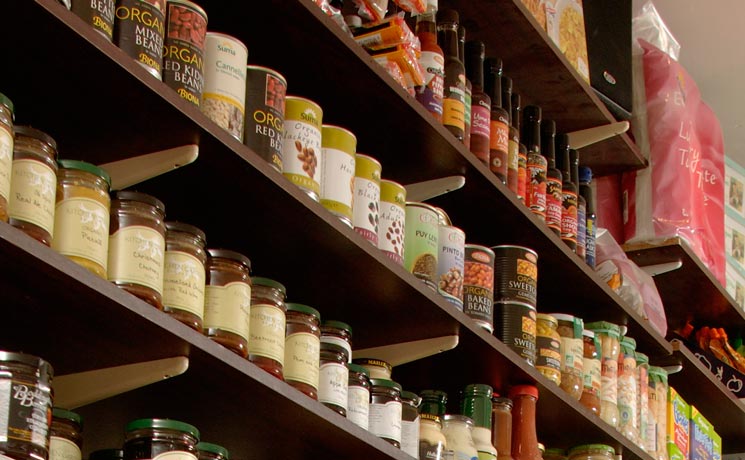 KV's 82/182 Series heavy-duty shelving is an organizational go-to for retail displays.
High quality shelving products
Original patent holder for commonly used adjustable wall-mounted shelving products
Established reputation for dependable, high quality products
Highest material grade and finish quality; unbeatable performance
All products meet or exceed BHMA requirements
ISO 9001: 2008 certification reflects commitment to quality
Backed by a long-standing Limited Lifetime Warranty
Most specified in the industry 
Broadest variety of commercial, industrial, hospitality and institutional applications
The widest selection of systems, sizes and finishes
LEED certification data available
RoHS compliant products
Specification information readily available
Made in the U.S.A.*
Proudly produced in Grand Rapids, Michigan
Compliant with requirements for U.S. Government contracts
Unsurpassed customer service
Extensive, knowledgeable Customer Service Team support
Domestic production of stock and non-stock products means continuous availability
Network of local distributors ready to supply you with quick turn around on orders
A common solution that often goes unnoticed
Adjustable shelving is so common in commercial and industrial settings for its superior quality and versatility, it's practically taken for granted. Take a look at our line-up to see how KV products can become an important part of your next design, build or outfitting.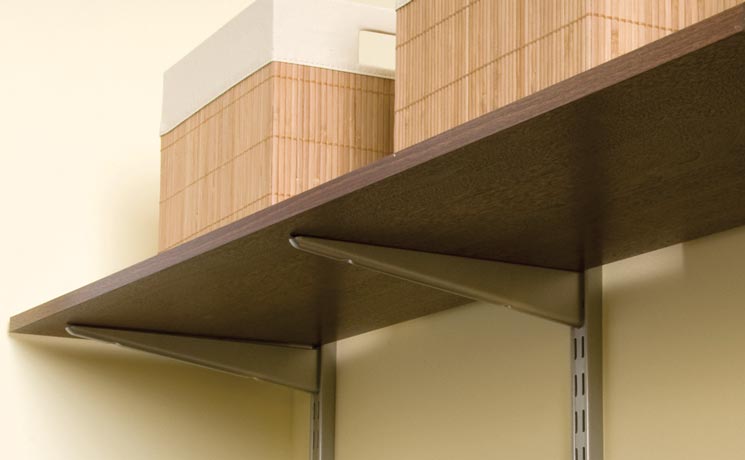 KV's heavy-duty, extra-duty and super-duty shelving systems are unsung heroes in commercial and industrial building design.
82/182 Series: Heavy-duty decorative standards and brackets with a double slot design in a variety of sizes and finishes.  A recessed profile and refined lines make these attractive for use in offices, reception areas and other commercial or light industrial applications.
83/183 Series: Extra-duty single-slot design crafted for long runs of shelving in commercial and industrial applications such as retail displays and storage rooms. The 83/183 Series features extra-wide standards for stability and to accommodate heavier loads. The brackets are designed with flanges that allow easy attachment of wood shelves.
85/185 Series: Extra-duty, double slot design for long runs of shelving in commercial and industrial applications including records management in businesses, hospitals and educational facilities. The brackets feature two pairs of "teeth" to engage the double-slotted standard, providing superior strength and maximum stability.
87 & 186LL/187LL: Super-duty standards and brackets designed for the heaviest of storage uses. Most commonly used in commercial and industrial applications such as laboratories, educational facilities, professional kitchens and health care facilities. Stainless steel standards, brackets and shelves available.
KV adjustable shelving products and systems are available on this site or from hardware distributors everywhere. So should you specify it? Read 4 BIG reasons why here.
*182 Series Brackets not produced domestically at this time.