You'll love these 7 ideas for decorating with shelves
Kitchen
Instead of traditional closed cabinets in the kitchen, try stacking several floating shelves for storing canisters, cookbooks, serve ware and more. Everything is readily accessible, and the openness helps create the feeling of more space.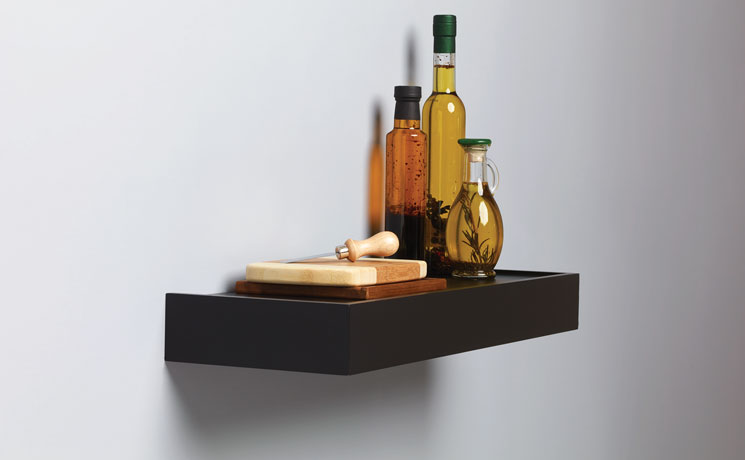 Wood Floating Shelves in black or white make a distinctive statement in the kitchen.
Bath
Glass adds just the right touch of elegance to a small bathroom. Use adjustable glass shelving to keep hand towels, soaps, and beauty items close at hand. A corner glass shelf beautifully displays your favorite bath salts, scrubs, lotions and creams.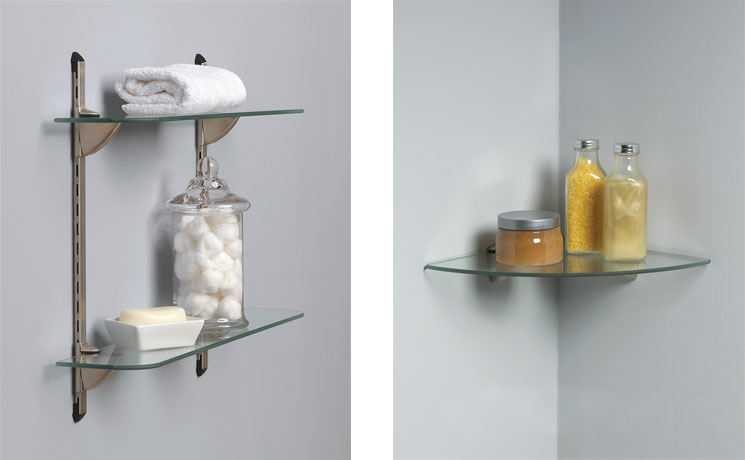 Photos, left: Satin nickel hardware highlights tempered glass shelves in the Adjustable Two-Shelf Kit. Right:Tempered glass in the Corner Glass Kit is supported by hardware with a satin nickel finish, for an elegant touch.
Kids' Rooms
Add fun and practical storage to walls in the kids' rooms. Wall accents like shadow boxes and cubes let them choose what to display or store.  And they can change things up whenever they want to.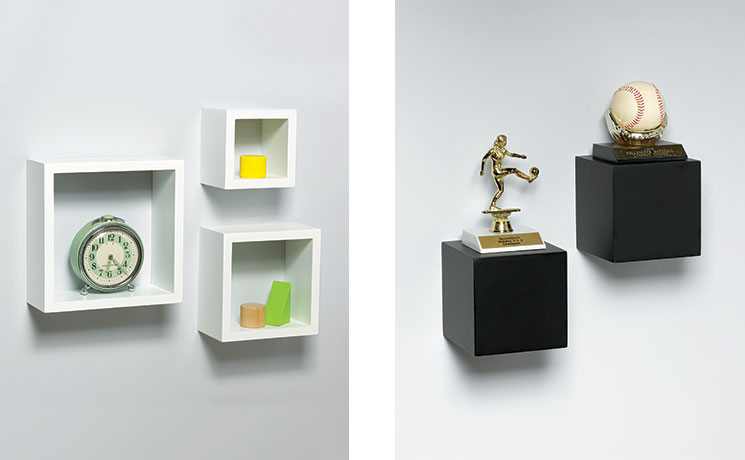 Photos, left: Fun, whimsical Shadow Box Kits feature black or white shadow box shelves in three sizes. Right: Collectibles really stand out when displayed on these two 5" wood Wall Cubes in black or white.
Living Room
Arrange a mantel-style shelf set or ledge-type grouping on a living room wall. Display framed prints, photos, vases and other objects of different heights and shapes—the asymmetry gives everything a fun, "thrown together" look. Create added interest by grouping objects based on a theme or displaying an array of items in a single color.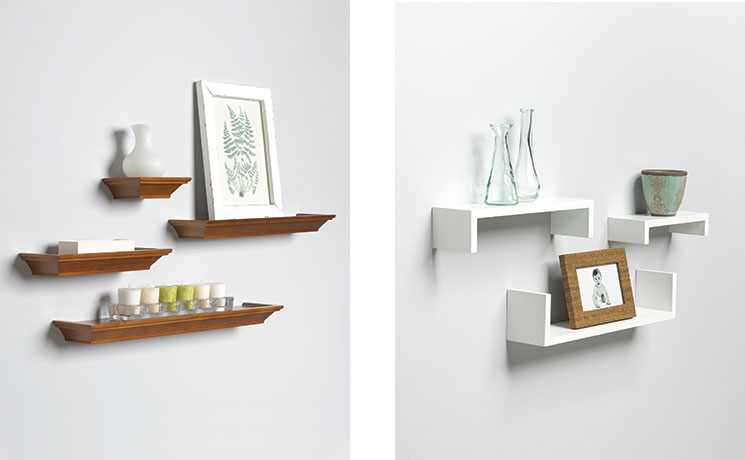 Photos, left: The Four-Piece Mantel Set offers flexible style in honey finish or black. Right: Make a distinctive statement with the versatile Three-Piece Ledge Set in black or white.