Tips for creating your perfect closet
If you've moved recently or even just put a fresh coat of paint on the walls, you've likely had at least one chance to redesign your bedroom closet.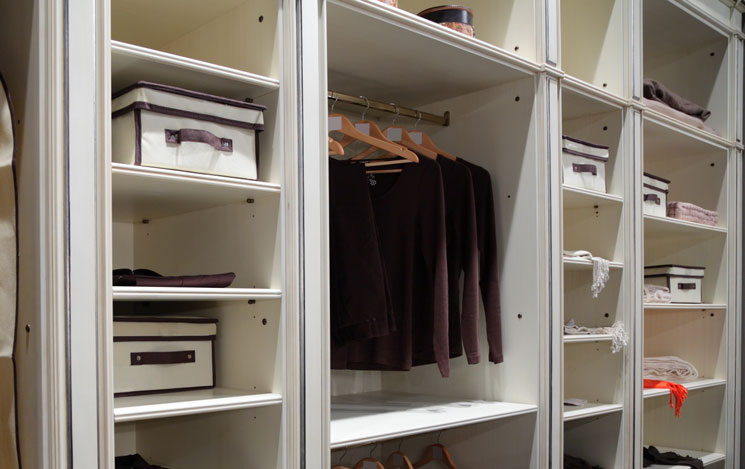 It's an opportunity to design exactly the closet you need – maybe even the one you've always dreamed of! Just remember, a closet refresh isn't going to give you any more space, but closet organizers, storage baskets, boxes and bins, or an entire closet system can help you make the most of the space you have.
Reach-in or walk-in
Storage needs differ, so every closet redesign becomes essentially a custom one. Your goal is to make your space work for you, no matter what kind of closet you have.
Reach-in closets are rectangular closets found in hallways, entry ways and guest or children's bedrooms. One or two bi-fold doors or by-pass sliding doors allow easy access to everything inside. Typical dimensions for a reach-in closet in the bedroom are 6 ft. long by 2 ft. deep. You usually have an 8-ft. ceiling and an 80 in. door opening.
Walk-in closets are usually in the master bedroom suite and vary in size and shape, including square, rectangular or L-shaped. Dimensions vary, but you need a minimum 6 ft., 6 in. overall width between walls with at least a 30-in. pathway. You will have an 8-ft. ceiling and a minimum 2-ft. doorway, and you should leave at least 2 ft. for the door to swing.
Pro tip: Pocket doors give the most unrestricted access to any closet.

(Re)Creating your closet
Before you get started designing your closet, measure your space. In spite of the information above, do not rely on "typical" measurements. Some DIY sources suggest you measure everything three times—just to be sure that any closet components or storage you add will fit.
If you intend to install a new closet system in your space, check out KV's Closet Culture™ Kits at favorite stores including The Home Depot or Menards. One 8-ft. kit with shelves will fill a standard reach-in closet, or you can purchase mulitple kits or individual components to build out your walk-in. Closet Culture's elegant yet heavy-duty modular components will give you flexibility and fit in almost any space.
Install tips
Measure the length and depth of your space.
For a walk-in, allow at least 2 ft. of space for a swinging door.
Mount rods 24 in. from the back wall to accommodate hangers.
Install single closet rods 60 in. from the floor.
Use a double rod configuration to hang more items in your space. Attach the top rod 80 in. to 82 in. from the floor and the bottom rod 40 in. from the floor.
Rods more than 48 in. long need a center support for stability.
Planning basics
It is not always necessary add an entire closet system, when you can find so many storage alternatives to complement an existing rod and shelf or shelves. You may even have things around the house you can turn into attractive storage. Consider lined and unlined baskets, see-through or fabric bins and square little cubbies or small bookcase for storing folded clothes, purses, accessories, shoes and more. If you are purchasing storage bins, be sure to measure your spaces before you buy.
Assuming you've already purged everything old, worn or out of style, now is the time to plan out your space.
Planning tips
Take inventory of everything to be stored. Discard, consign or donate items you haven't worn or used in the past year.
Use a double rod configuration and hang skirts, blouses and folded pants on the rod closest to floor. Dresses, suits, gowns, etc. then hang from the top rod.
Store more in a small space by dedicating just 1 ft. to 2 ft. on a high rod (64 in. from floor) for long items. Use a double rod configuration for remaining clothes.
Add bins and baskets to shelves to store things that don't hang.
Use vertical space all the way to the ceiling: Install two rows of shelves above the rod, using the topmost shelf for seasonal storage.
Use shelving for neat and functional shoe storage OR get an over-door shoe rack for storing shoes, accessories, etc.
Keep a folding step stool in the closet to reach the high places.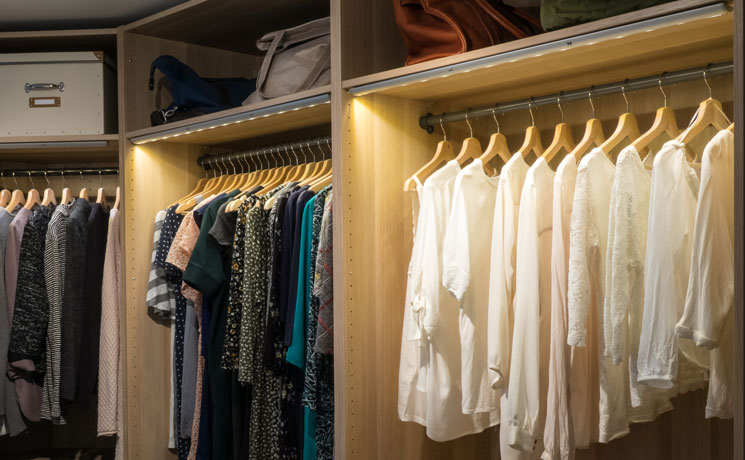 Last: Light things up

Closet lighting is often overlooked, so be sure to plan for it. If you don't have a window or other source of natural light you'll need to incorporate enough lighting to be able to see everything well. Bright yet soft overhead lights are a must, but you can also try a few additions to glam things up:
Recessed LED strips on shelves allow you to see what stored there.
LED lights above your closet rods give off a subtle, clarifying light.
Track lights, accent lighting, pendant lamps, even a chandelier can be both attractive and functional.
Mirrors enhance brightness, so place several in a walk-in closet.
Don't overlook this important part of making your closet work for you. The right lighting can make all the difference in whether your closet is a dark hiding place for clothes and shoes or a space that looks great even with the door open.