The not-so-secret solution to getting organized
If you need to finally get organized; if you need to get your stuff up off the floor; if you need to get use out of every square inch of your space … You need shelves. The adjustable kind.
A mainstay for generations, adjustable shelving is kind of an open secret—a versatile, practical way to get things in order around the house or at the office. And as downsizing trends continue and building or remodeling costs increase, shelving is an increasingly popular way to turn every nook and cranny into useful storage. It's the perfect solution that's been there all along.
Versatile now, and later too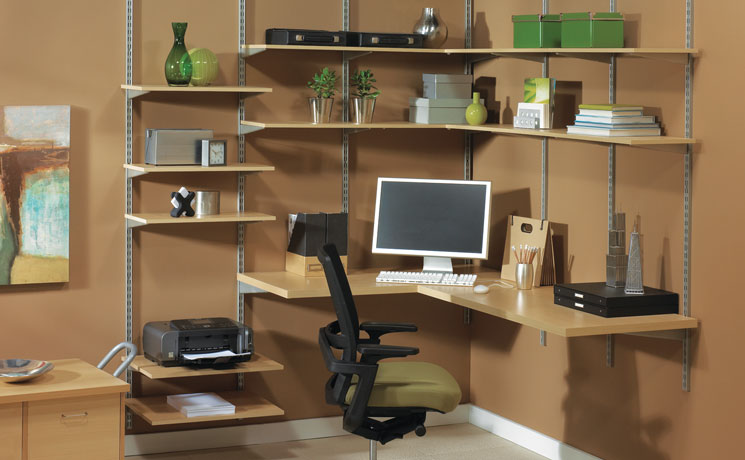 Versatile adjustable shelving is key to organizing this home office, featuring the heavy-duty KV 82/182 Series.
Shelves use your available wall area to give you more usable space. With adjustable shelves you can build modular units—size and shape determined by you—in almost endless configurations to suit your needs.
Try installing shelves at different levels; arrange them above furnishings; build a floor-to-ceiling unit; install under cabinets; arrange as a bookcase; assemble inside a closet. You can even build a shelving unit around a fireplace or large piece of furniture.
Change up your shelving units over time to meet your needs as kids grow or family interests evolve. Adjustable shelving adapts to the way you live and work.

The trusted name in shelving
Knape & Vogt pretty much invented the adjustable wall-mounted shelving system ("standard and brackets"), known for its high quality and built to exceed standards, every time. You'll find regular-, heavy-, extra- or super-duty systems adapted from durable, commercial-grade steel or aluminum construction. Standards and brackets are available in many finishes to suit almost any décor. Brackets in a range of sizes accommodate solid shelf depths of 4 inches to 24 inches to meet a wide variety of needs.
Adjustable shelves are easy to install with only a few tools. Just add Knape & Vogt shelf board* in any of several different finishes to complete your amazingly versatile and attractive shelving system.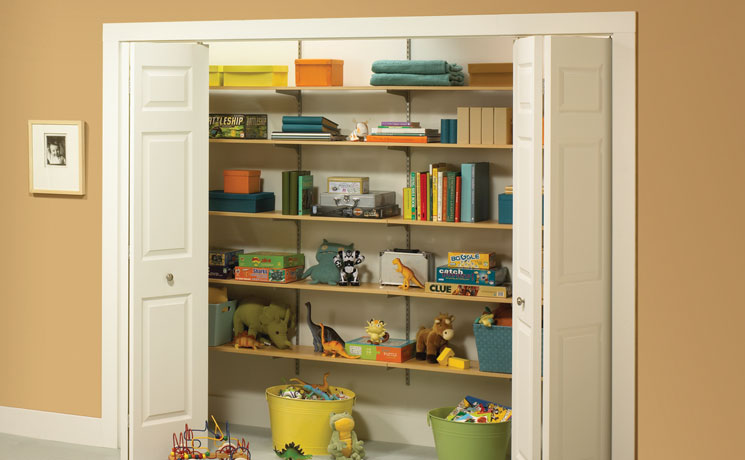 KV 80/180 Series regular-duty adjustable shelving in the playroom or family room closet helps keep stuff up off the floor.
Two customer favorites

The KV 80/180 Series is our best-selling regular-duty adjustable shelving system. Popular for its traditional style as well as its mid-century modern design that's so in vogue today, this system has an almost unimaginable number of uses. Install it in storage closets, clothes closets, linen closets and spare closets. Create instant wall storage in kids' rooms, play room, family room, laundry room—any room in the house.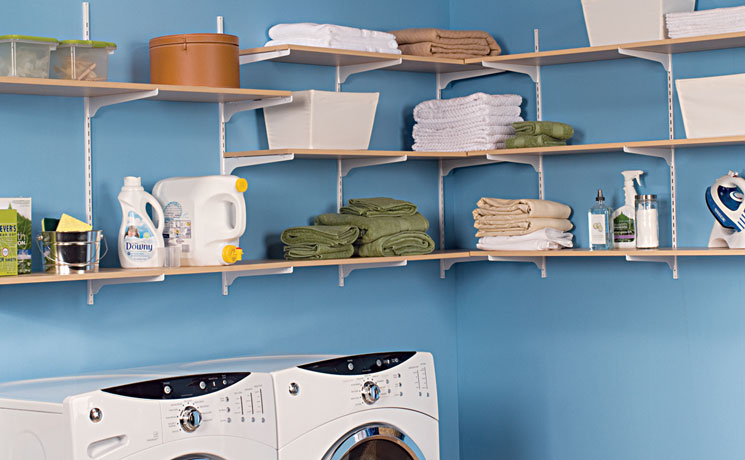 The KV 80/180 Series regular-duty adjustable shelving system puts everything in its place in the laundry room.
The KV 82/182 Series adjustable shelving system is a newer take on a classic European style. It is a more robust system for heavier use areas like offices, garages, basements, pantries and utility rooms—any place you need a little extra heft to hold things. Like its regular-weight sibling, this system is available in many sizes and finishes.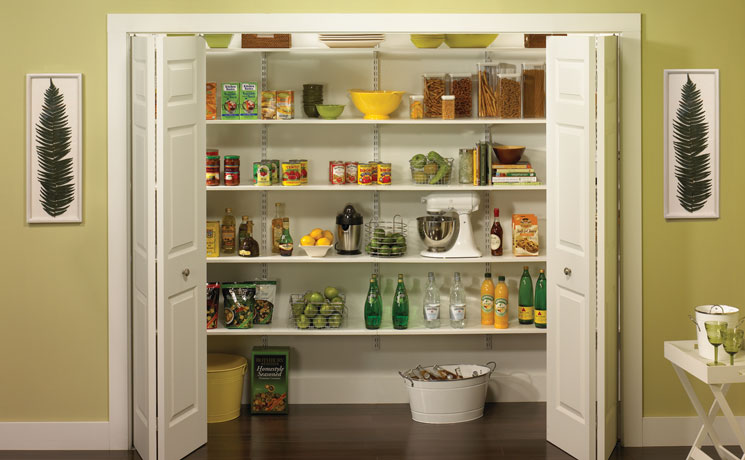 KV 82/182 Series Designer heavy-duty adjustable shelving system keeps pantries neat and organized.
Check the adjustable shelving pages of this website for more information and to order pilaster systems like the 255/256 Series, often used in cabinets and custom woodwork installations. You'll also find the 85/185 Series extra-duty system featuring a double slot design for added strength and the 87/187 Series super-duty steel standards and brackets system.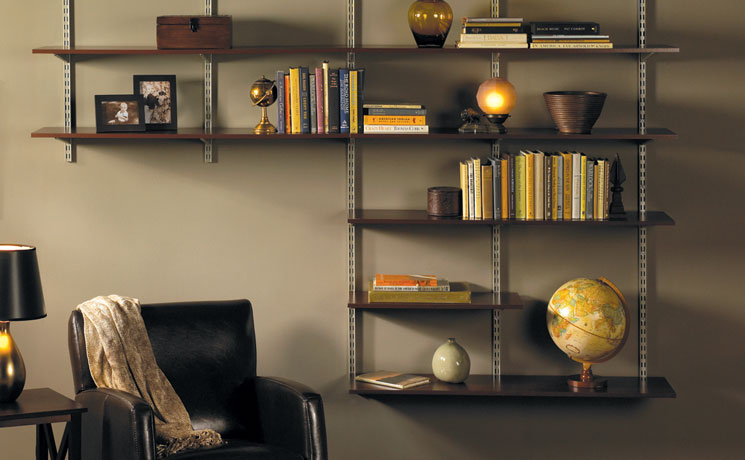 KV 82/182 Series Designer shelving pulls together this room's elements to create a cozy reading nook.
Available practically everywhere
Our adjustable shelving is so popular you can get it almost anywhere. Check with your local hardware store or distributor, where you also can get personal service and advice on what to buy. If it's not in stock, our partners will gladly place a special order with us on your behalf. Just ask them. If you can't find Knape & Vogt products in your area, explore the website further to purchase the products featured here and more.
Adjustable shelving is the solution that's been there all along to help you reclaim unused space and get organized. Take a look for yourself.

KV adjustable shelving systems are available in finishes to fit your style and décor.
*Knape & Vogt All-Purpose Shelf Board is not available online.